Government Information Librarian -- Rice University -- Houston, TX
Submitted by

Amigos

on Thu, 2021-09-23 11:40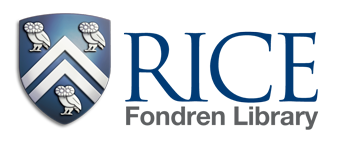 Rice University is seeking a dynamic, service-oriented Government Information Librarian. The successful candidate will provide service through Fondren Library's Kelley Center for Government Information. This position will report to the government information coordinator.
Responsibilities: Fondren Library is a Federal Depository Library (FDL) and a Patents and Trademark Research Center (PTRC). The successful candidate will be trained to serve as a PTRC Representative. This position will also have these responsibilities: staffing the Kelley Center reference desk, providing reference assistance and research consultancy, teaching workshops, processing the Kelley Center's collections, and conducting department outreach and promotion. This position may be assigned to supervise student staff and volunteers.
In addition, the successful candidate will:
develop, teach, and evaluate training workshops; lead Kelley Center tours
work with the Cataloging Department on copy cataloging and maintaining serial holdings and bibliographic control of Kelley Center collections
participate in planning, designing, implementing, assessing regular departmental promotion and outreach activities, to increase the awareness and the usage of Kelley Center collections, resources, equipment, and unique services
keep developing knowledge about all Kelley Center collections and resources
perform all other duties as assigned
Required Qualifications
Required qualifications include:
ALA-accredited Master's degree in Library Science
Three (3) years professional library work experience
Broad knowledge of or strong interest in patent, trademark and other government information resources
Knowledge and understanding of relevant aspects of library operations
Ability to stay current with contemporary library practices, trends and emerging technologies
Effective problem solving and analytical skills
Preferred Qualifications
Preferred qualifications include:
A second Master's degree in Engineering, Science, Entrepreneurship, or Business
Professional public service experience in an academic research university library environment, especially in a PTRC and/or a FDL
Professional experience with copy cataloging and bibliographic control
Strong teaching, project management and event management skills
Experience with supervising or providing training to student workers and volunteers
Strong ability to use technologies for information management and collaboration
Salary & benefits: $55,000 minimum, with hiring salary commensurate with experience and qualifications; no state or local income tax; 21 benefit days; 8 study days; a range of retirement options including TIAA/CREF; health and life insurance and tuition waiver.
Environment: Rice University provides a stimulating work environment with opportunities to participate in the delivery of innovative library services supported by leading-edge technologies. Fondren Library (http://www.rice.edu/fondren) is a research library with more than 3 million volumes and more than 172,000 subscriptions, including titles available through aggregators.
Houston is a vibrant, multicultural city with world-class visual and performing arts ranging from the traditional to the avant-garde. The fourth largest city in the country, Houston enjoys a moderate cost of living and easy proximity to the Gulf Coast. For more information, see: http://www.explore.rice.edu/explore/General_Information.asp.
Applications must be received by October 31, 2021, in order to be considered. Please apply with a cover letter and résumé at https://tinyurl.com/RiceGovInfoLibrarian.
Inquiries: Lisa Spiro at (713) 348-2480 or lspiro@rice.edu. Rice University is committed to affirmative action and equal opportunity in education and employment. Rice does not discriminate on the basis of race, color, religion, sex, sexual orientation, gender identity, national or ethnic origin, age, disability, or veteran status.