Director of Business Information Resources -- Rice University -- Houston, TX
Submitted by

Amigos

on Wed, 2021-10-06 09:04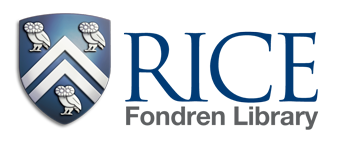 Rice University is seeking a highly motivated, collaborative and service‐oriented Director of Business Information Resources. The successful candidate will provide leadership in the management of the Business Information Center (BIC), which is located in the Jesse H. Jones Graduate School of Business (JGSB). JGSB, also known as Rice|Business at Rice University, is committed to delivering a top-tier business education to a diverse group of high-performing students. Set in an intimate environment, the school prides itself on being attentive, responsive and kind to students, alumni, faculty, staff and the greater Houston business community. The director will work closely with the faculty, administration and students of the JGSB to ensure that the BIC is able to meet their research and teaching needs and to increase awareness of library resources and services.
Responsibilities: The Director of Business Information Resources is responsible for the administration of the BIC. This includes budget oversight and hiring, training and review of staff. S/he is the point person for in-depth research assistance using a broad range of digital and print resources, course-related and resource-specific instruction and collection development for all areas of business in support of the curriculum and faculty research at the JGSB, as well as business-related research across campus. BIC staff consists of 2.5 paraprofessionals and 6-10 students. S/he manages 4 research analysts (who support faculty research), serves as the liaison to the Department of Economics and as a member of the Fondren Library Research Data Management Team. This position reports to the Dean of JGSB, with a dotted line to the AUL for Research Services in Fondren Library. Active participation in library committees and project team work, as well as commitments to professional development, are expected.
Required Qualifications:
ALA-accredited Master's degree in Library Science.
Five years of professional experience as a business librarian, or prior relevant experience in a corporate/business environment, preferably with supervisory and budgetary responsibilities
In-depth knowledge of a broad range of business and economics research sources, including specialized subscription databases and government statistics
Experience delivering instruction and research support services, preferably in an academic setting
Experience building and maintaining digital and print collections, including vendor negotiations
Experience with computer and telecommunications technologies for information management and collaboration.
Excellent organizational, interpersonal, teaching and communication skills, including the ability to actively listen to, understand and articulate the needs of users.
Ability to work effectively in a team environment and negotiate issues with people across diverse groups.
Ability to apply new technologies to library services.
Demonstrated understanding of the research process.
Preferred qualifications:
Degree in business or a business-related field (e.g. entrepreneurship, finance, marketing, management) or economics.
Public service experience in an academic, research or corporate library
Experience finding and using data from both commercial and non-commercial sources
Familiarity with statistical platforms such as WRDS and Bloomberg
Strong proficiency with Microsoft office suite, particularly Excel.
Experience using the Springshare platform (LibGuides & LibAnswers).
Experience working in an academic library that has migrated to the Alma library services platform.
Salary & benefits: $70,600 minimum, with hiring salary commensurate with experience and qualifications; no state or local income tax; 21 benefit days; 8 study days; a range of retirement options including TIAA; health and life insurance; and tuition waiver.
Environment: Rice University provides a stimulating work environment, with opportunities to participate in the delivery of innovative library services supported by leading edge technologies. The Gilbert & Ruth Whitaker Business Information Center (BIC) is located on the second floor of McNair Hall. It includes a large reading room, an online resource room, and an additional study space containing reference materials and journals. The BIC serves a high-quality and diverse student body, with 30% international students, 38% women, 6% military veterans and 19% underrepresented minorities, as well as, visitors from other universities, the Texas Medical Center and general public.
Fondren Library (https://library.rice.edu/) is a research library with more than 2.8 million volumes and more than 141,000 subscriptions, including titles available through aggregators. The Library has a state-of-the-art off-site shelving facility. An active program of digital resource delivery and development is grounded in successful collaboration among library and University staff from Digital Scholarship Services, other library departments and University information technology staff.
Houston is a vibrant, multicultural city, with world-class visual and performing arts ranging from the traditional to the avant-garde. The fourth largest city in the country, Houston enjoys a moderate cost of living and easy proximity to the Gulf Coast. For more information, see: http://www.explore.rice.edu/explore/General_Information.asp.
Applications must be received by November 5, 2021 in order to be considered. Please apply with cover letter and résumé at: https://tinyurl.com/RiceDirectorBusInfoRes. Inquiries: Lisa Spiro at (713) 348-2480 or lspiro@rice.edu. Rice University is committed to affirmative action and equal opportunity in education and employment. Rice does not discriminate on the basis of race, color, religion, sex, sexual orientation, gender identity, national or ethnic origin, age, disability, or veteran status.