Call for Proposal - What Will We Keep: Creating the Next Remix of Library Services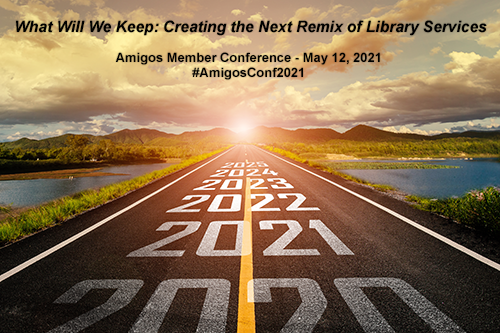 Amigos Member Conference - Wednesday May 12, 2021
In 2020 we saw libraries close, partially reopen, fully reopen, and some we watched go through the cycle multiple times. Through it all, libraries adapted to the new operational and service landscape in unique and unprecedented ways. While some of these changes are not sustainable or ideal long term, many of these adaptations are proving to be beneficial solutions.
How will/should your library compose its new suite of services? Which services will be part of the new mix? Which new service delivery methods, unique programs, and systems will continue into the future? Amigos' 2021 Annual Member Conference will highlight libraries' new directions, services, and opportunities and what libraries expect to keep as our changed landscape continues to develop.
Possible Presentation Topics:
Curbside service
Home delivery
Online programming for all age levels and audiences
Book clubs
Working from home - both policies and best practices
Self-care
Employee policies
Policies for the public/library users
How to catalog a book when working from home
Communicating with staff and the public
Online tutoring sessions
Please submit your proposal by March 3, 2021. Tell us your story and share what registrants can expect to learn from your presentation. Amigos staff will provide all the training for our platform and full technical support during your presentation. All sessions are 45 minutes with time for questions and answers.
To submit a proposal, complete the form below.
For more information about this conference, contact Tracy Byerly at byerly@amigos.org or 800-843-8482, ext. 2893.