Welcome New Amigos Employees: Alex and Jacob
Submitted by

admin

on Wed, 2023-08-02 13:52
Amigos recently welcomed two new employees.
Alex Womack has been hired for the position of Client Coordinator, Association Management Services (AMS). In their work, they will be providing direct support for several association management clients by processing registrations, conducting financial processes, updating websites, and assisting members of AMS clients. An MLIS professional coming to Amigos from the St. Louis Public Library, Alex brings high level customer service skills and an interest in technology to this position. Alex looks forward to getting to know the unique aspects of each client and the software and systems used to support those clients.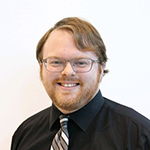 Jacob San Antonio is working as Amigos Customer Support Specialist, Member Discount Services and Trans-Amigos Express. A University of North Texas graduate, Jacob brings skills and experience from customer service, journalism, finance, and insurance. Jacob's favorite learning experience in his first months at Amigos has been visiting the courier warehouse sites, gaining a better understanding of how the courier system works; he is excited to get to know and work with more Amigos member and courier libraries.