Library Spotlight: Sam Houston State University – The Woodlands
Submitted by

Amigos

on Wed, 2012-07-18 12:15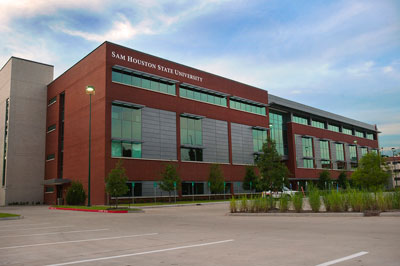 The Sam Houston State University Library at The Woodlands opened its doors on May 31, 2012. The Woodlands campus functions as a remote campus to the main university in Huntsville, TX. The school currently offers courses ranging from the sciences to business to liberal arts. The library in The Woodlands functions as an extension of the main library in Huntsville, the Newton Gresham Library (NGL). The Woodlands library, however, is not a traditional library — there are no books.
Amigos interviewed the librarian at The Woodlands campus, Tyler Manolovitz, to learn more about the new library and how it utilizes the TAE courier service.
Gazette: When did the library and campus open?
TM: Sam Houston State University – The Woodlands Center had its Grand Opening Wednesday, May 30. The building and the library – that we call the Information Resources Center – opened for business Thursday, May 31.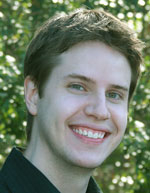 Gazette: What areas of study does the campus offer? Which of these areas do you request materials for the most?
TM: For the Summer I and Summer II terms, SHSU-TWC offers classes in Business, Counseling, Criminal Justice, Economics, Education, English, Finance, Kinesiology, Management, Marketing, Philosophy, Psychology, and Spanish. As the campus establishes itself and moves into the fall and spring semesters, it looks to offer more and more courses. Right now, education and business students are the most active in utilizing the library services.
Gazette: What is your role at the Information Resources Center? What are your duties?
TM: My job title is Reference and Instruction Librarian and my role, essentially, is to assist students in utilizing NGL resources and services without having to visit the main campus. This includes research assistance for students and faculty, help with library databases and resources, help with citations and citation management, providing on-site course reserves for materials that professors want to ensure students can access, on-site delivery (through TExpress) of Interlibrary Loan and NGL print materials, computer skills workshops, one-to-one research consultation for thesis and dissertation work, and personalized library instruction sessions for courses at SHSU-TWC.
Gazette: You mentioned there are no books in the Information Resources Center. How frequently do you use e-books?
TM: That's correct. The Information Resources Center primarily focuses on providing assistance using distance services and electronic resources. There are some exceptions, such as course readings that professors have put on reserve and a few citation handbooks, but we do work mostly with electronic resources.
Our ultimate goal is to provide all of the services that NGL has to offer to students of SHSU-TWC, which is why TExpress is so crucial to our mission. Even though our students are not at the main library, we want to be able to provide simple access to all of the print materials. To answer the second part of the question, e-books are certainly used by the students here, but we can't really determine which materials students at SHSU-TWC are accessing as opposed to students on the main campus. I would say they are a valuable resource, but currently online databases and electronic journal articles are the most popular resources.
Gazette: As an extension of the main library, do you only borrow books from the Huntsville campus, or do you also borrow from other institutions?
TM: We do borrow materials from other institutions utilizing our wonderful Interlibrary Loan program. Students can request journal articles or books online. The Interlibrary Services Department at NGL will attempt to locate the materials at another institution and, if available, will request those materials and utilize TExpress to deliver them to SHSU-TWC for easy pickup. Students can also return ILL or NGL print materials to the Information Resources Center and we will use TExpress to return them to NGL.
Gazette: Do you use any other method to send or receive materials such as US mail, FedEx, USPS, etc?
TM: For the most part, no. Anything we have had to move between NGL and SHSU-TWC has been done through TExpress with few exceptions. We sometimes will drive time-sensitive materials ourselves to ensure prompt delivery, but TExpress is our primary service.
Gazette: What has your experience been with the TAE/TExpress service thus far?
TM: The experience has been wonderful and certainly positive. The average delivery takes two days, which is satisfactory in most instances. Occasionally we have time-sensitive materials that TExpress cannot deliver in time to meet our needs, but those exceptions are few and far between. The service runs smoothly, making shipment a stress-free and simple process.
Gazette: Do you have any suggestions for the service?
TM: I really think the service is worthwhile and a wonderful opportunity for institutions to utilize. It would be nice to have the ability to mark certain items as time-sensitive so they could arrive the next day, but that would probably be exceedingly difficult for a need that arises only occasionally. I am very happy with the service.
If you would like your library to be featured the Express Gazette, please contact me at tae@amigos.org.