MALA Procedures
Submitted by

Amigos

on Wed, 2013-01-23 16:24
On July 2, 2012, Trans-Amigos Express and the Mid-America Library Alliance (MALA) officially linked courier systems. All Trans-Amigos Express/TExpress libraries are now able to send and return ILL materials via the courier to all MALA libraries. The complete list of MALA libraries can be found on the TAE webpage: http://www.amigos.org/node/135. Please note that all MALA libraries can receive items from the courier, but some libraries can only send and return items via USPS mail.
An OCLC group with the symbol MAGO has been created to facilitate lending between courier programs. All MALA and TAE/TExpress libraries were automatically added to this group; if your library is not listed, please contact tae@amigos.org so that we can make the correction.
To send items to MALA libraries, please use the labels provided on MALA/KCMLIN's website: www.kcmlin.org/amigos/amigosinfo.htm. This link is also available on the Trans-Amigos Express/TExpress website. MALA has compiled a database of all MALA/KCMLIN and Trans-Amigos Express/TExpress libraries, and the website will generate labels that can be saved to your computer. Simply select your library in the FROM address field, select the destination in the TO address field, select the 3x5 label size, and indicate how many labels you need. The current format of the labels provided by MALA does not match an Avery label template, so we ask that you please use regular paper for the labels. After you have clicked on "Create Label File," the labels will download to your computer, where you can print or save them for future use. Please note that Trans-Amigos Express/TExpress libraries will list TAE in front of all library names.
Below is an example of how a TAE/TExpress participant would send an item to Rock Hill Public Library in Missouri via the courier service: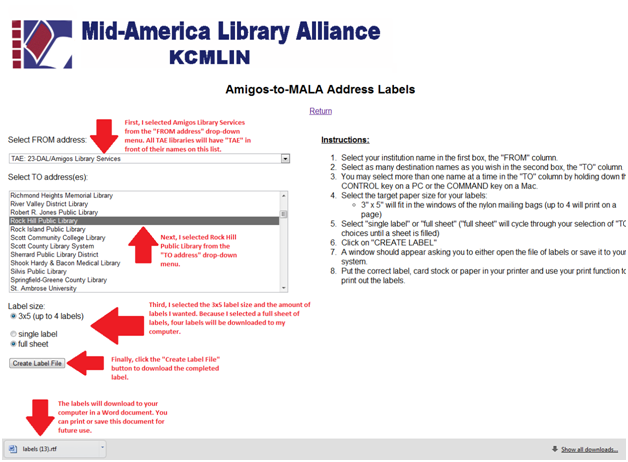 Please note that selecting multiple libraries and selecting a full sheet of labels will not result in four labels per library selected. For example, if you select Rock Hill Public Library, Rock Island Public Library, Scott Community College, and Sherrard Public Library District, four different labels would be created on one sheet of paper. Selecting one library and a full sheet of labels, however, will result in four of the same labels on one sheet, shown below: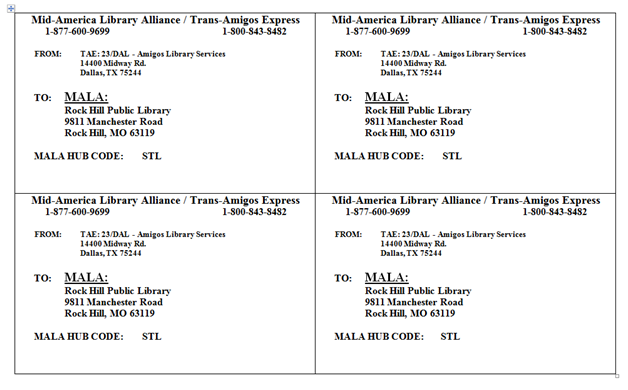 The label includes each library's address and courier information. Please note that these labels are only to be used when sending items to a MALA library. When sending items to a TAE library, please continue to use TAE labels even if you are sending the items in a MALA bag. Using the MALA labels to send an item to a TAE library will result in a misdirected package, which will be sent to Amigos for re-routing.
MALA bags can be used interchangeably with the TAE bags. Amigos and MALA both ask that TAE barcodes only be used on TAE bags and envelopes. Do not place a TAE barcode on a MALA bag. Please note that MALA bags currently have barcodes, which our courier scans. However, the MALA courier no longer uses scanners, so anything sent to a MALA library will not be tracked once it leaves the TAE courier.
Amigos Library Services and MALA worked closely together to design a label that will work well for both couriers. Amigos contacted a number of member libraries to discuss their ILL workflow process and assess their labeling needs, and used their feedback in planning the layout of the labels. Amigos and MALA will continue to enhance the labeling system in the coming months and soon hope to develop a labeling solution that will accommodate all libraries' labeling needs. We welcome any feedback you may have to help us continue to develop the labeling system. Please contact me at tae@amigos.org if you have any questions or concerns regarding the link with MALA.