Kansas Library Express
Submitted by

Amigos

on Tue, 2013-11-19 11:40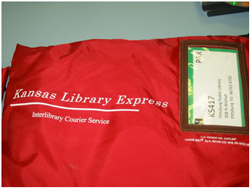 Trans-Amigos Express is pleased to announce a new connection to the Kansas Library Express, a courier service with over 300 participating libraries across the state of Kansas. With a planned start date of January 2, 2014, this addition will increase the total Trans-Amigos Express library connections to over 850!
Kansas Library Express (KLE) uses pre-made labels provided by their courier service, Henry Industries. All labels can be found on the Henry Industries website. Within that document, use Ctrl+F to bring up a search box. Search for the receiving library and print that page of labels.
Several members of KLE are also members of MALA. You can decide which connection you would like to use to send to these libraries, just use the label from the connection you are sending it through. As with MALA, you will notice that there are similarly names libraries throughout TAE, MALA, and KLE. Remember to be attentive to the details of the library you are sending to. KLE and MALA both include physical addresses on their labels which can help ensure you are sending to the correct library.
KLE bags are red, printed with "Kansas Library Express." Please see the above photo for reference.
We are working on creating an OCLC lending group, similar to the MAGO lending group used for our connection to MALA. Please keep an eye out for further announcements about this connection as we approach our anticipated January start date.