Register by January 30th to Save on Work Smarter, Not Harder Conference!
Submitted by

Amigos

on Thu, 2020-01-16 11:33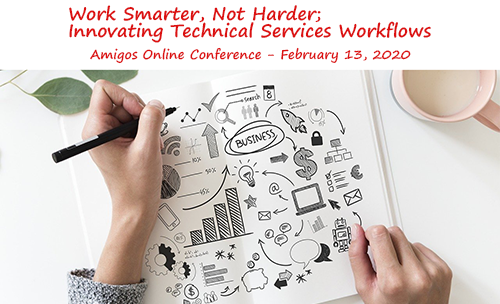 Save Thursday, February 13, 2020, for our online conference, Work Smarter, Not Harder: Innovating Technical Services Workflows and register by January 30th to secure the early bird rate. For Amigos members, your attendance is free as always! This conference will explore ways to make everyone's life easier when it comes to ordering, processing, cataloging, and weeding our libraries' resources.
The keynote session, "Smart Cataloging: Beginning the Move from Batch Processing to Automated Classification" will be presented by Head of Digital Initiatives and Infrastructure Support for The Ohio State University Libraries, Terry Reese.
Sessions include:
From Amazon to Acquisitions: Navigating a Turbulent Workflow
Small Steps Make Giant Leaps: An Incremental Approach to Technical Services Workflow Automation
Smoothing Out the Licensing and Contracting Workflow
Transform Your Mindset: TS Librarians as Data Scientists
And more at https://www.amigos.org/work_smarter/