Birds, Bats, and Bears: A Virtual Tour of BioOne Complete with Amigos April 13
Submitted by

Amigos

on Thu, 2021-03-25 11:27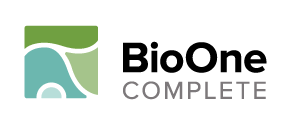 High-quality content for researchers and students in the biological, ecological, and environmental sciences
BioOne Complete is a full-text database of 215 independently published journals focused on the broad disciplines of biological, ecological, and environmental sciences. A trusted source for scientific research, it is a home to leading journals in agriculture and plant sciences, entomology, zoology, and biodiversity conservation.
BioOne Complete content is also highly relevant for students and researchers who wish to understand the impact of climate change on agriculture and the food supply, invasive and native species, marine and freshwater environments, and more. View the 2021 BioOne Complete title list at https://bioone.org/title-lists.
Librarians and faculty are invited to join BioOne's Christine Orr and Chelsea Tharp to get reacquainted with the collection – whether your library has an existing subscription to BioOne Complete or you're interested in learning more! We will tour the platform, review collection updates for 2021, and highlight the benefits of a subscription through Amigos Library Services.
Date: Tuesday, April 13, 2021
Time: 11:00AM – 12:00PM EST
Register: https://attendee.gotowebinar.com/register/2420295986137132557
Can't attend? A recording of the webinar will be sent to all registrants following the live session.
About BioOne
BioOne was founded in 1999 by both library and publisher interests to address the inequities posed by commercial journal publishing. BioOne Complete provides libraries with cost-effective access to highquality, curated research and independent society publishers with a dynamic, community-based platform and global distribution. BioOne Complete's unique business model reinvests precious library funds in scientific communication, with over $50M returned to BioOne society publishers to date.