2022 BioOne Complete Collection Updates & New Resources
Submitted by

Amigos

on Thu, 2021-10-07 14:31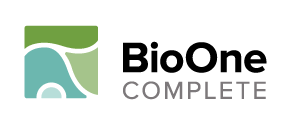 217 Titles from 159 Publishers
BioOne Complete is a curated collection; each year they thoughtfully partner with leading societies in the biosciences to bring BioOne Complete users access to more research. BioOne is pleased to announce the addition of two new titles from the International Odonatological Foundation, Odonatologica and its companion publication, Notulae odonatologicae. These titles will join the BioOne Complete collection on January 3, 2022.
These additions expand the collection to 217 titles from 159 publishers and will further enhance BioOne Complete's core subject coverage in the key fields of entomology and biodiversity conservation. Visit the BioOne Complete website to view and download the full 2022 BioOne Complete title list.
Pricing
As many know, BioOne was founded as a non-profit in 1999 by libraries and publishers to address the inequities in commercial publishing. Twenty years later, they continue to invest precious library funds into the operations of small independent publishers while delivering their content on a competitive platform that ensures discoverability and ease of use. In 2021, they were gratified to work with both communities to freeze prices in response to the COVID-19 crisis. In 2022, they have made the careful decision to increase their prices 3%, which translates to $256 for the average North American subscriber. Their hope is that you feel this modest investment is sustainable for you, and it will surely translate into meaningful support for their publishing partners.
Remote Access
BioOne Complete makes remote access easy, to support students and faculty whether they are on campus or online.
Social Media Toolkit
Use the images within BioOne's social media toolkit to promote your subscription to BioOne Complete on your institution's social media channels. Right click on the images to save them for posting. Please also be sure to follow BioOne on YouTube for help resources and tutorials for both users and librarians.
Feel free to send any ideas for additional promotional resources their way, and don't forget to follow and tag @biooneorg on Facebook, @bioone - on LinkedIn, and @BioOneNews on Twitter!
Keep Up with Top & Trending Articles
We are pleased to highlight a selection of Top and Trending articles — representing broad cross-sections of subjects, species, and regional interests—published recently in BioOne journals. This section of https://bioone.org/ is updated on a quarterly basis and they recommend sharing with science librarians and faculty as well as researchers interested in their subject areas.
Similarly, users can choose what topics they would like to see receive specific updates about by signing up for monthly alerts.